Regent Seven Seas Cruises Announces Exclusive Amenities from L'Occitane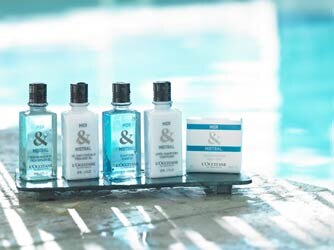 MIAMI, Fla. (June 28, 2016) – The world's most luxurious ship, Seven Seas Explorer, will feature an exclusive collection of bath amenities from the L'Occitane's Mer & Mistral line, becoming the first cruise ship to offer complimentary amenities from this exclusive line of products. The new L'Occitane products will serve as the standard amenity for all suites onboard Seven Seas Explorer.
The Mer & Mistral line is part of L'Occitane's La Collection de Grasse assortment, inspired and named after the world perfume capital in the south of France. This collection of products celebrates L'Occitane's French Provencal roots by bringing together fresh aquatic notes blended with an aromatic chord of pine, cypress and rosemary. The complimentary Mer & Mistral collection of exclusive amenities from L'Occitane will initially be available only on Seven Seas Explorer, but will roll out on the remainder of the Regent Seven Seas Cruises fleet of all-suite luxury vessels this summer.
Included in the exclusive Seven Seas Explorer collection are 75 ml bottles of L'Occitane shampoos, conditioners, shower gels, body lotions, and fresh soaps. In addition, guests will receive a complimentary 100-ml bottle of Lavender Liquid Foaming Bath, in which the fresh and delightful fragrance contains lavender oil from Provence. Guests will realize all relaxing benefits of lavender captured in this rich formula that generously foams in the bath and leaves skin clean, supple and delicately scented.
"It's imperative, that down to our amenities, Seven Seas Explorer conveys the highest level of luxury," said Jason Montague, president and COO for Regent Seven Seas Cruises. "This partnership demonstrates our dedication to providing guests with the most upmost, luxurious level of excellence, and we're thrilled to have L'Occitane as part of our exclusive collection of amenities."
About Seven Seas Explorer
The newest member of the Regent Seven Seas Cruises fleet, Seven Seas Explorer has been hailed as the most luxurious ship ever built. Carrying only 750 guests, it boasts one of the highest space ratios in the cruise industry and features extravagantly designed lounges and showplaces, and lavish gourmet restaurants. The luxury liner's maiden voyage is scheduled for July 20, 2016, and will spend its inaugural season in Europe before heading to Miami for a series of Caribbean voyages.
For more specific itinerary details or for general information about Regent Seven Seas Cruises, guests can visit www.RSSC.com, call 1.844.4REGENT (1.844.473.4368) or contact a professional travel agent.
About Regent Seven Seas Cruises
Regent Seven Seas Cruises is the world's most inclusive luxury cruise line with a fleet that visits more than 375 destinations around the globe. The line's fares include all-suite accommodations, round-trip air, highly personalized service, acclaimed cuisine, fine wines and spirits, unlimited internet access, sightseeing excursions in every port, all gratuities, and a pre-cruise luxury hotel package for those guests staying in concierge and higher suites. Beginning in summer 2017, Regent Seven Seas Cruises will also include Business Class air for all intercontinental flights. Three award-winning, all-suite vessels, Seven Seas Navigator, Seven Seas Mariner, and Seven Seas Voyager, are among the most spacious at sea, with the newest ship, the 750-guest Seven Seas Explorer, debuting on July 20, 2016.
CONTACT:
Jason Lasecki
Prestige Cruise Holdings
305-514-3912
jlasecki@prestigecruiseholdings.com
Kelsey Walker
Ketchum Public Relations
404-879-9294
kelsey.walker@ketchum.com