Vancouver to San Francisco
aboard Seven Seas Mariner®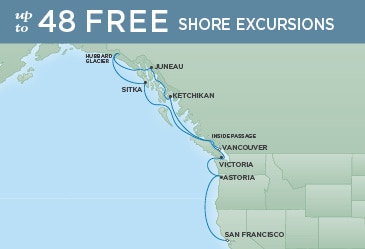 Enjoy bonus savings of $2,400 per suite and our all-inclusive offerings listed below.
JOIN OUR 2018 REUNION CRUISE
We cannot wait for your return! Relish the opportunity to reconnect with your favorite officers and crew members, as well as your fellow Seven Seas Society® travelers while taking part in the exclusive events of our 2018 Reunion Cruise from Vancouver to San Francisco. Whether you are a first-time visitor or have sailed Alaska in the past, this is a destination that deserves to be explored again and again. President & CEO Jason Montague invites you aboard the newly refreshed and redesigned Seven Seas Mariner®. Join him at an open forum Town Hall, as well as a series of informal chats at Coffee Connection to reminisce about past adventures and discuss the future of luxury cruising. Along with Captain Daniel Green, Mr. Montague will host an elegant Seven Seas Society party and a special Reunion Cruise Galley brunch to celebrate your unforgettable moments with Regent Seven Seas Cruises over the years.
ONBOARD ENRICHMENT SERIES
Not only will you be able to see the best of Alaska ashore, but this voyage will also feature cultural anthropologist and destination expert Terry Breen. Join her as she shares her passion and love for the region through her onboard lectures and intermittent commentary from the Bridge while sailing toward Hubbard Glacier. During your nights at sea, enjoy magnetic performances by International Award-Winning Recording Artist Lovena B. Fox and be entertained and stunned by Comic-Magician Matt Marcy.
Exclusive Reunion Cruise Shore Excursions
Allow us to take care of every detail.