MIAMI TO BARCELONA
aboard Seven Seas Mariner®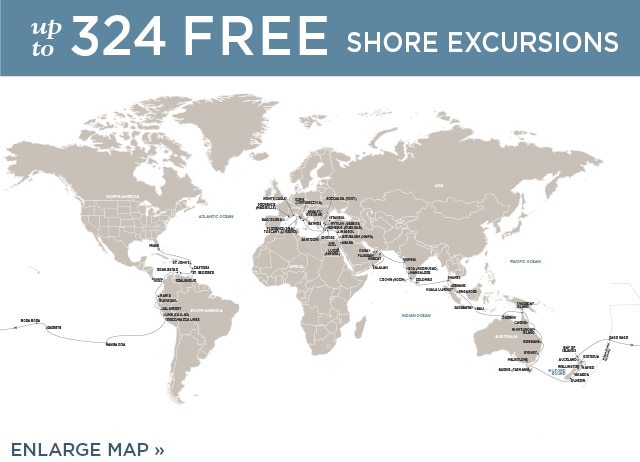 In 2021, Seven Seas Mariner® embarks on an epic 117-night adventure to 61 unique ports across South America, French Polynesia, Australia, Asia, and the Mediterranean. Join us and delight in Exclusive FREE Shoreside experiences, including a flashback to Australia's penal history while in Brisbane and a Royal Bedouin evening in Wadi Rum, along with other indulgent Bespoke Amenities. Seek out UNESCO World Heritage Sites in ports like Colombo, Sri Lanka, Jerusalem, Israel and Limassol, Cyprus. Each night, return your spacious and luxurious suite and enjoy impeccable, personalized service.
World Cruise Bespoke Amenities Include:
FREE Business Class Air*
FREE Exclusive Pre-Cruise Gala Event and 1-Night Hotel Stay in Miami
FREE Exclusive Shoreside Experiences
FREE Door-to-Door Luggage Service
FREE Comprehensive Visa Package
FREE Unlimited Laundry, Including Dry Cleaning & Pressing
FREE Phone Time Per Suite
FREE Commemorative Gift
FREE Onboard Medical Service
FREE Unlimited Beverages, Including Fine Wines & Premium Spirits
FREE Open Bars & Lounges, Plus In-Suite Mini-Bar Replenished Daily
FREE Prepaid Gratuities
FREE Specialty Restaurants
FREE Transfers Between Airport & Ship
FREE Unlimited Wi-Fi

Navigate the World Highlights

6 Continents Visited
3 Oceans Cruised
13 Seas Cruised
30 Countries Visited
61 Ports Visited
56 UNESCO World Heritage Sites
11 Overnight Stays
33,474 Nautical Miles Sailed
324 FREE Shore Excursions
Lima (Callao), Peru
Hanga Roa, Easter Island
Auckland, New Zealand
Brisbane, Australia
Bali, Indonesia
Singapore
Mumbai, India
Dubai, UAE
Luxor (Safaga), Egypt
Jerusalem (Haifa), Israel
Istanbul, Turkey

Featured UNESCO World Heritage Sites

The Great Barrier Reef off the shore of Cairns, Australia
The Chhatrapati Shivaji Terminus in Mumbai, India
The Old City of Acre outside of Jerusalem (Haifa), Israel
The Medieval City of Rhodes in Rhodes, Greece
The Palau de la Música Catalana and Hospital de Sant Pau in Barcelona, Spain
The Archaeological Site of Troy in Bozcaada, Turkey
Embark the incomparably elegant and spacious Seven Seas Mariner®. Her amenities are surprisingly plentiful and include four main dining venues where you can dine wherever, whenever and with whomever you choose. With 447 international crew members attending to a mere 350 suites, personal service is exceedingly indulgent throughout.
Exclusive Shoreside Events & Overland Programs
a complete immersion in the culture and traditions
Mystical Moai Experience
Hanga Roa, Easter Island — January 27, 2021

There's no inhabited spot in the world quite so isolated as Easter Island. A mere dot off the coast of Chile in the vast Pacific Ocean, Rapa Nui, as it's called in the people's native language, is a one-of-a-kind destination making it the perfect place to join your fellow world cruisers for an unforgettable shoreside experience. Explore Rapa Nui's pink-sand beaches, its volcanic cones and windswept grasslands, and of course, the monumental Moai statues — more than 800 of them bearing silent witness to a long-lost, complex society. Not only will you be able to see these incredible sculptures firsthand, but also participate in a recreation of a celebration called Tapati. Delight in folk music performances, body painting and an authentic lunch in this spectacular setting.
Arresting Australia
Brisbane, Australia — February 28, 2021

While walking down the bustling retail hub of Queen Street, it is hard to believe that it was once a penal colony, home to one of the most notorious prisons in the world. For more than a hundred years the Alcatraz of Queensland, Boggo Road, held hardened British convicts. Today its doors are wide open to shed light on Australia's infamous history as a convict nation. After a welcoming cocktail reception, embark on an intimate and insightful tour of the facilities, where the drama and stories of prisoners are brought to life by guides, and you also have the unique opportunity to meet and chat with a former inmate. Surrounded by towering red brick walls, the prison yard is transformed into a dinner venue, where you may dine, mingle and, at the conclusion of the evening, be free to go.
Royalty of Wadi Rum
Aqaba, Jordan — April 11, 2021

The desert is steeped in romance and excitement, especially when you add a delicious rustic meal under an endlessly starry sky, with the exhilarating notes of traditional music. Delight in this Bedouin tradition that is fit for royalty. The evening's celebration is set against the backdrop of a castle replica in Wadi Rum and you will be welcomed by a traditional Dabke dance that is widely performed at weddings and other joyous events. More unforgettable entertainment in the warm evening air awaits, including belly dancing, traditional music performed by a Bedouin folkloric band, and artists adorning your hands with Henna tattoos. Take in the serenity of the desert, as you delight in complimentary champagne and canapés before indulging in an enticing selection of authentic dishes and classic Arabian sweets.
Cuzco & Machu Picchu
2 Nights from Salaverry, Peru | January 19-21, 2021
Optional Overland Program

From Salaverry, embark on an adventure to explore one of the most sacred and mysterious landmarks of the Inca Empire, the UNESCO World Heritage Site of Machu Picchu, the Lost City of the Incas. Your journey to Machu Picchu begins aboard the Vistadome Train, which features large panoramic windows for excellent viewing of the passing landscape. And upon your arrival at Aguas Calientes, the gateway to the ruins, you will enjoy an authentic lunch at a local restaurant. Once at Machu Picchu witness the Temple of the Sun, hundreds of terraces, and a mysterious carved stone situated on a raised platform that towers above the plaza. This optional 2-Night Overland Program includes hotel accommodations, select meals, tours, transfers, train fare and flights. At the conclusion of your program you will return to your ship in Lima. Available for an additional cost.
Temples of Angkor Wat
3 Nights from Bali, Indonesia | March 12-15, 2021
Optional Overland Program

From Bali, journey to Cambodia's Siem Reap, where a unique and thrilling adventure awaits you in the jungles of Angkor. There you will uncover the rich history and grand architecture of the Khmer Empire, the UNESCO World Heritage Site of Angkor Wat. Obscured by dense vegetation for centuries, the glorious temples of Angkor comprise one of the world's largest religious monuments. The most famous is the enormous Angkor Wat, whose soaring walls are covered with intricate carvings. You will also visit the city of Angkor Thom and discover the renowned Bayon Temple, built in the 12th century. This optional 3-Night Overland Program includes accommodations near Angkor Wat, flights, transfers, daily breakfasts and tours. At the conclusion of your program you will return to your ship in Singapore. Available for an additional cost.
Egypt's Renowned Relics — Luxor & the Pyramids
1 Night from Luxor, Egypt | April 12-13, 2021
Optional Overland Program

Spend your overnight in Luxor indulging your senses with some of ancient history's most renowned relics and UNESCO World Heritage Sites during this scenic and memorable tour of Egypt. Fly to Cairo where you will visit the famous Great Pyramids of Giza and the Sphinx, as well as the Egyptian Museum of Antiquities displaying the world's largest and richest collection of Egyptian antiquities, including statues, mummies and the priceless treasures of King Tutankhamen. In Luxor, tour the renowned ancient structure of Luxor Temple, originally built during the reign of Amenophis III and then expanded by Ramses II, who added a statue of himself and two obelisks. This optional 1-Night Overland Program includes accommodations, flights, transfers, daily breakfasts and tours. At the conclusion of your program you will return to your ship in Safaga. Available for an additional cost.
Additional Overland Programs

The following Overland Programs are also available. View the Cruise Itinerary page for full details on all Overland Programs.
Ajanta & Ellora Caves
Dunedin to Milford Sound
Himalayan Kingdom of Nepal
The Jewels of Luxor
Historical Holy Land
Sacred Sites of Israel
Magical Uluru: Ayers Rock
The Taj Mahal & the Gems of Jaipur

2021 WORLD CRUISE
Navigate the World
Allow us to take care of every detail.
*Fares are subject to increase. All fares are per person in U.S. dollars, based on double occupancy (unless otherwise noted), for new bookings only and may be withdrawn at any time. 2-for-1 Fares and Early Booking Savings are based on published Full Brochure Fares; such fares may not have resulted in actual sales in all suite categories and do not include optional charges as detailed in the Guest Ticket Contract. FREE First Class Air to Miami and FREE Business Class Air from Barcelona includes ground transfers and applies to flights only from the following airports: ATL, BOS, CLT, DEN, DFW, DTW, EWR, FLL, IAD, IAH, JFK, LAX, LGA, MCO, MDW, MIA, MSP, ORD, PBI, PHL, PHX, SAN, SAV, SEA, SFO, TPA, YUL, YVR, YYZ. Airfare is available from all other U.S. and Canadian gateways for an additional charge. Custom Air arrangements may be made 270 days prior to sailing (custom air fees apply). FREE Air includes all airline fees, surcharges and government taxes. Airline-imposed personal charges such as baggage fees may apply. For details, visit exploreflightfees.com. FREE Visas apply to U.S. and Canadian citizens only. FREE Door-to-Door Luggage Delivery Service applies to Guests residing in the U.S. and Canada only. Luggage is restricted to 2 bags per Guest at 50lbs per bag. FREE Medical Service includes onboard medically necessary treatment only. Bespoke Amenities apply to World Cruise Guests on full 117-Night 2021 Navigate the World cruise. Phone inclusion is per the standard Seven Seas Society® program on World Cruise.
Ship's Registry: Bahamas. ©2018 Regent Seven Seas Cruises®