CIRCUMNAVIGATION OF AUSTRALIA
Roundtrip Sydney aboard Seven Seas Mariner®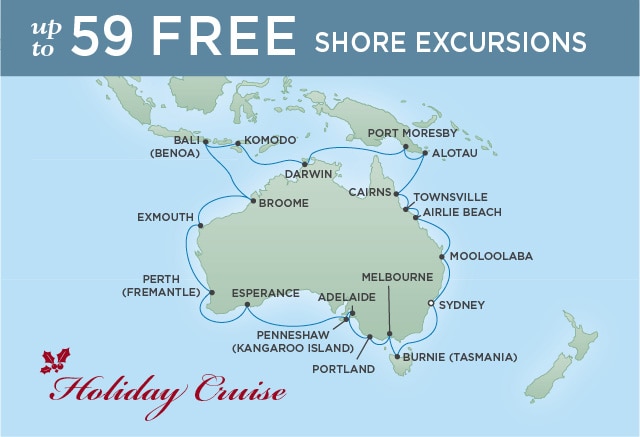 This is a once-in-a-lifetime opportunity aboard the luxurious Seven Seas Mariner® to really see it all, from the sails of the famed Opera House in Sydney to the underwater wonder of the Great Barrier Reef. Explore Melbourne's cultural side with tours through its finest museums and most architecturally rich neighborhoods, and in Perth sample exquisite wine and encounter Australia's famous wildlife.
Grand Voyage Bespoke Amenities Include:
FREE Pre- Cruise 1-Night Hotel Stay and Dinner in Sydney
FREE Exclusive Shoreside Experience - Australian Open Centre Court
FREE Exclusive New Year's Eve Party in Bali, Indonesia
FREE Onboard Medical Service
FREE Unlimited Laundry, Including Dry Cleaning & Pressing
FREE Phone Time Per Suite
FREE Commemorative Gift

In addition to our standard all-inclusive amenities:

FREE Roundtrip Business Class Air
FREE Unlimited Shore Excursions
FREE Unlimited Beverages, Including Fine Wines & Premium Spirits
FREE Prepaid Gratuities
FREE Specialty Restaurants
FREE Transfers Between Airport & Ship
FREE Unlimited Wi-Fi
FREE PRE- CRUISE 1 - NIGHT HOTEL STAY AND DINNER
Sydney, Australia | December 14 , 2018
Begin your unforgettable vacation with a FREE 1-Night Hotel stay at the Four Seasons Sydney. Be swept away by the beauty of the iconic Sydney Harbour Bridge and Opera House at your doorstep, and in the evening, meet and mingle with your fellow circumnavigators at an exclusive dinner at your luxurious hotel.
FREE EXCLUSIVE NEW YEAR'S EVE PARTY IN BALI
Bali, Indonesia | December 31, 2018
Ring in the New Year in Nusa Dua, Bali's premier resort area, where an unforgettable evening awaits. The theme of this uniquely designed private event is a Balinese Night Market, highlighting all the exotic elegance and joyful excitement of traditional Indonesian life, complete with musicians performing time-honored songs and a fascinating performance of the folkloric Kecak Dance, as well as local artists offering beautiful batik designs. Delight in an exquisite Royal Balinese Rijsttafel Dinner under the stars before enthusiastically counting down to 2019 in the company of your fellow travelers.
FREE EXCLUSIVE SHORESIDE EXPERIENCE - AUSTRALIAN OPEN CENTRE COURT
Melbourne, Australia | January 16, 2019
The sporting capital of Australia and host to some of the nation's biggest and best events welcomes the guests of Seven Seas Mariner's Circumnavigation of Australia Grand Voyage. We are pleased to present you with the opportunity to experience the only Grand Slam tennis tournament that takes place in the Southern Hemisphere.
The event begins with a coach ride from Station Pier to Melbourne Park, the home of the Australian Open. Here, you will be welcomed to the Glasshouse for dinner before attending the evening tennis session taking place on Centre Court — Rod Laver Arena.
The Glasshouse is located on the banks of the Yarra River and just a two-minute walk to Centre Court. Enjoy an indulgent three-course meal in the spacious dining room with panoramic windows that look onto Melbourne Park. This is the ideal location to experience one of Australia's premier sporting events. In addition, a special guest speaker will be in attendance and provide some insight to the tennis circuit.
Following dinner, take a short two-minute walk before entering Rod Laver Arena where you will enjoy Category 1 Seats around Centre Court.
Following the evening session, you will be transported back to the pier and the Seven Seas Mariner®; taking home some wonderful memories of Melbourne and the Australian Open.